Full RCM Support & Medical Billing Services for TeleMedicine
PPM is Here to Support Your Practice's TeleMedicine/TeleHealth Needs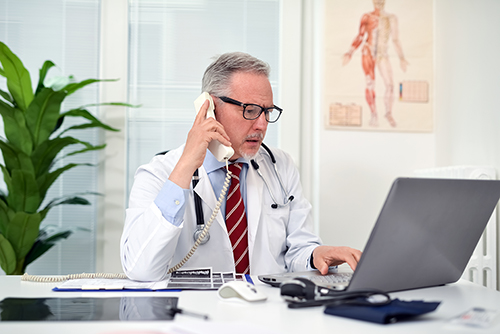 TeleMedicine (TeleHealth) Services have become much more important in recent years, as remote access and technical capabilities have expanded for both providers and patients. The coronavirus pandemic has further accelerated demand for this newest way of effectively treating patients. Precision Practice Management has extensive knowledge in the area of Telemedicine/Telehealth services and our teams understand the requirements and billing complexities involved. We support individual physicians and small practices, as well as hospitals, multi-specialty clinics, and other large medical groups in developing this newest way to provide better healthcare to your patients. Whether you need comprehensive revenue cycle management services or basic assistance in developing your TeleHealth service offering, we are prepared to meet your needs.
TeleMedicine & COVID-19
Medicare has temporarily expanded its coverage of TeleHealth services to respond to the current Public Health Emergency. These services significantly expand the current TeleHealth covered services to help you have access to your patients from more places (including their homes), with a wider range of communication tools (including smartphones), to interact with a range of providers (such as doctors, nurse practitioners, clinical psychologists, and licensed clinical social workers). During this time, your patients will be able to receive a specific set of services from you through TeleHealth methodologies, including evaluation and management visits (regular E&M office visits), mental health counseling and preventive health screenings. This expansion will help ensure that your patients are able to visit with you from their homes - without having to go to your office or to a hospital - which can help keep you, the patient and others from risk of exposure to COVID-19.
Medicare has lessened the strict requirements of standard TeleHealth services on a currently designated "temporary basis" effective March 6, 2020. Medicare also covers Telephone evaluation and management (E&M) services and Online Digital evaluation and management services. The program will pay for office and hospital TeleHealth visits across a wide range of providers including nurse practitioners, physician assistants, clinical psychologists and social workers. TeleHealth visits will be reimbursed at the same rates as in-person visits. Precision will assist you in understanding, documenting and compliantly billing for TeleHealth care you provide.
Officials hope that increased TeleHealth use will reduce Medicare beneficiaries' exposure to the coronavirus and slow the spread of the illness. TeleHealth services were previously only available to Medicare enrollees in approved rural sites if they received TeleHealth services at a clinic, hospital or other medical facilities. The current expansion of TeleHealth is built upon that established base.
TeleHealth Services Authorized by Medicare
Medicare has three basic types of TeleHealth services that are authorized: TeleHealth Visits, Virtual Check-ins and e-Visits.
TeleHealth Visits
CMS considers Medicare TeleHealth visits the same as in-person visits, and those encounters require real-time communication between providers and patients using both audio and video. Medicare will now allow and make payment for Medicare Telehealth services furnished to beneficiaries in all areas of the country and in all settings (including the patient's home).
Under the recent Coronavirus Update from HHS and the Office for Civil Rights (OCR) on March 17, 2020, covered health care providers may use popular applications that allow for video chats including Apple FaceTime, Facebook Messenger video chat, Google Hangouts video or Skype, to provide TeleHealth without risk that OCR might otherwise seek to impose a penalty for noncompliance with HIPAA guidelines related to the good faith provision of TeleHealth services during the COVID-19 pandemic. Providers are encouraged to notify patients that these third-party applications potentially introduce privacy risk and providers should enable all available encryption and privacy modes when using such applications.
Facebook Live, Twitch, TikTok and similar video communication applications are "public-facing" and should NOT be used in the provision of TeleHealth services by covered health care providers.
The following vendors offer HIPAA-compliant video communication products and will enter into a HIPAA Business Associate Agreement (BAA): Skype for Business, Updox, VSee, Zoom for Healthcare, Doxy.me, and Google G Suite Hangouts Meet.
Virtual Check-ins
Virtual Check-ins are brief communications between doctors and patients, such as those provided via text messaging or telephone calls. Providers can deliver Virtual Check-ins using a range of communications since those communications do not require both audio and video capability. CMS expects that patients will initiate most Virtual Check-ins by emailing, calling or texting their primary-care doctor. Providers may respond to a patient's concern by telephone, audio/video, secure text messaging, email, or use of a patient portal. Virtual Check-ins are appropriate where the communication between you and your patient isn't related to a medical visit within the previous 7 days and doesn't lead to a medical visit within the next 24 hours (or soonest appointment available). Patients need to consent verbally to using Virtual Check-ins and you must document that consent in your medical record before you offer this service. Your patient will pay the usual Medicare coinsurance and deductible for these services.
E-Visits
E-Visits involve care delivered through a patient portal, which requires providers to have a pre-existing relationship with the Medicare beneficiary/patient. E-visit services include those that are provided online via patient portals or secure text messaging, as well as the evaluation of recorded video or still images submitted by a patient. E-visits are patient initiated and communication can occur over a 7-day period. Practices may educate patients on the availability of Telehealth/Telemedicine services prior to the patient contacting you.
Additional Information
Medicare Advantage plans may also provide their enrollees with access to Medicare Part B services via TeleHealth in any geographic area and from a variety of places, including a beneficiary's home. With this flexibility, it is possible that beneficiaries/patients in Medicare Advantage plans can receive clinically appropriate services for treatment of COVID-19 via TeleHealth.
Consistent with the flexibility available to Medicare Advantage Organizations and Part D sponsors with respect to other items and services, MAOs and Part D sponsors may choose to waive prior authorization requirements that otherwise would apply to tests or services related to COVID-19.
Coverage of these services is based upon insurance carrier benefits. Therefore, depending on the payer and plan involved, it is recommended you advise your patients of the financial responsibility they may have for services provided remotely.
Regulatory guidelines are developing rapidly and will continue to evolve as a result of the coronavirus outbreak. CMS continues to issue updates on the coronavirus pandemic and PPM strongly urges all Medicare/Medicaid providers to monitor the COVID-19 CDC website as well as their State public health website and follow recommended guidelines regarding acceptable standards of practice.
Contact Us About Our Services for Telemedicine & Telehealth
Precision was engaged to start the process of "taking our practice paperless" and the results have been tremendous. First, our office network was significantly upgraded by Precision. Then, all of our physicians went wireless in both of our offices and from home. Our dictation workflow was then automated via an EHR to Dragon interface and we are now scanning, generating e-files or receiving e-faxes for all documents that we formerly archived in paper form. We have now completed our transition to electronic health records. Precision has also provided strong tech support for us - even on weekends - with extremely quick response time. That kind of support is really hard to find."